j F Y in Uncategorized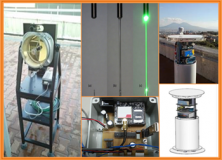 Innovation, technological development, industrial transfer in order to reinforce regional capacities for research and technological development, fostering innovation notably for companies involved in knowledge-based economy.
The realization of innovative and integrated systems for environmental and geophysics monitoring activities was begun; in particular a first Remote Climate Station (RCS) was finalized. This station is a transportable system that can be equipped with different modules in order to guarantee the monitoring of atmospheric composition and other environmental indicators, according to the customer requests. RCS is maintained by green energy and able to send data acquired by instruments in near-real- time via satellite connection.
The establishment of the Ev-K2-CNR Scientific and Technological Laboratory was begun. The activities, here promoted, will be characterized by a strong synergy between research and business both at scientific and technological level.