j F Y in Uncategorized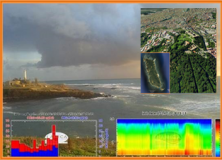 Observing facilities for climate and environmental monitoring in order to strengthen laboratories and instrumentation for observations and monitoring, data processing and information storage.
 The monitoring sites of I-AMICA project were identified and for each measurement site t a proper technical analysis has been carried out to define the strengthening strategy: new sensors and instruments to be installed were identified.
The design of the hardware/software for the expansion of the high-performance computing infrastructure, able to support the Cloud Computing application, was finalized.  It was designed also a system that will harvest the metadata of existing I-AMICA observatory infrastructures and will be linked to the database of GeoNetwork.